We've launched new games for kids and adults.
Dear Citizen Scientist,
You are receiving this email because at some point in the last year, you signed up to be notified about new research at themusiclab.org. We're sending along a quick note to announce two science games: one for kids and one for adults.
In the Kids' Music Quiz, your child can listen to music from all over the world and make guesses about what the songs are about. It's a fun learning experience about the diversity of world music — and also helps us to learn more about how humans use music everywhere. Children of all ages are welcome and it's OK to play the game more than once; you'll get a new set of songs to listen to each time.
If you're interested, you can read a bit more about related research we've done with adults in The Atlantic or try the grown-up version of this game, our World Music Quiz. Several of our other games, like Test Your Musical IQ, the Tone-deafness Test, and are also fun and age-appropriate for kids.
Our second new game, geared toward adults and older kids, is Top of the Charts. We'll play you melodies and pop songs, asking how quickly you recognize them and what you know about them. This will help us to figure out the best-known songs in the world: the music at the "top of the charts".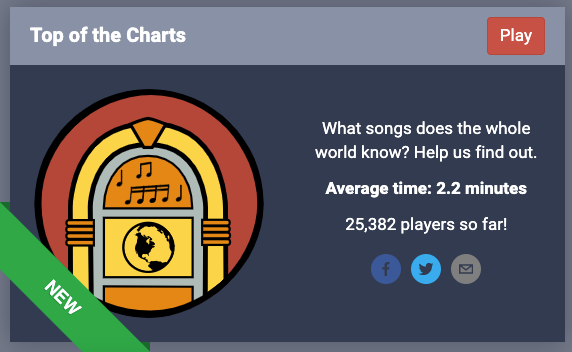 And of course, all of our other games remain available, including Who's Listening?, the Synthesizer Game, and What's Your Musical Style?
Our team is all working remotely during the COVID19 pandemic to help flatten the curve — we hope that themusiclab.org provides a fun and science-y opportunity for you to do the same. We'll let you know when more new games become available!
Best wishes,
The Music Lab